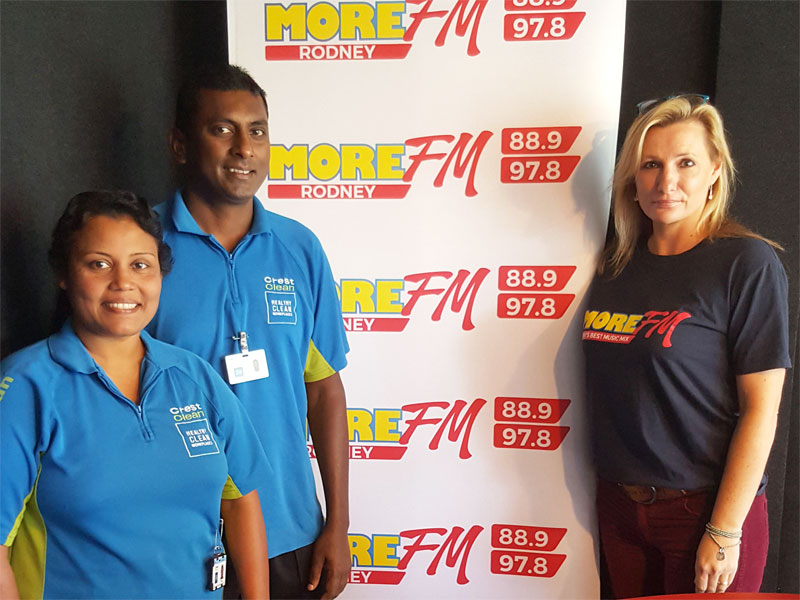 Customer satisfaction is everything to Naresh and Radhna Mani.
The CrestClean couple believe regular customer contact is a major key to the success of being a successful Franchisee. And their dedication and hard work has received high praise.
They have proved a big hit with a radio boss who said the standard of cleaning at the Auckland station has never been better.
Anna McGovern has been singing the praises of Naresh and Radhna for their dedication to the job at MediaWorks. "The cleaning at my MediaWorks offices and station room has been the BEST it has ever been," said a delighted Anna.
"I can't tell you how nice it is to have professionals such as Naresh and his wife cleaning for us. We are very pleased," added Anna, who is General Manager MediaWorks Rodney and Hibiscus Coast.
The glowing accolades came as no surprise to Neil Kumar, CrestClean's North Harbour and Whangarei Regional Manager, who said the couple took a lot of pride in their cleaning work.
"Naresh and Radhna talk to their customers regularly and will pop in see to how it's all going. They really have the personal touch. They have a great attitude and they are always smiling."
The Auckland couple have been with CrestClean for just over 18 months but have already grown their business fourfold in that time. And they have just moved into a new home.