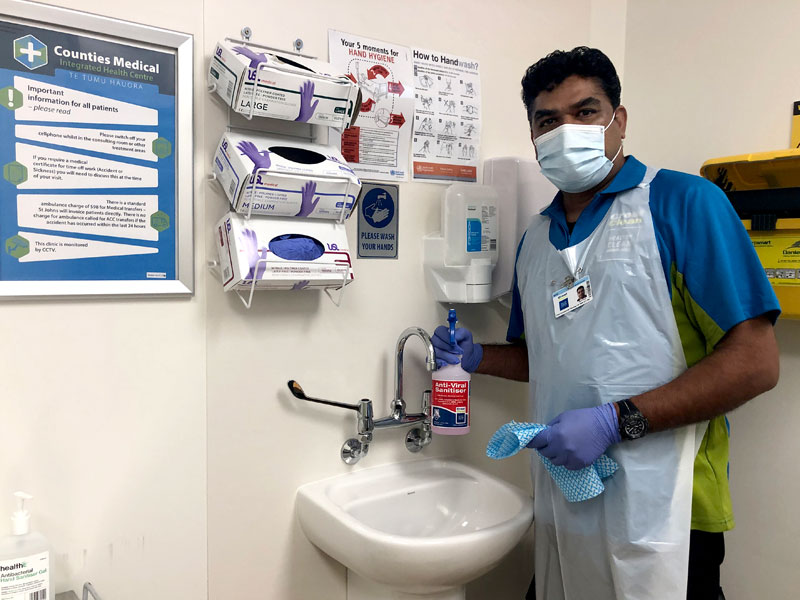 He had just joined CrestClean but new franchisee Raj Prasad was happy to jump into working 12-hour days to help keep his community safe.
The former dairy farm manager's first cleaning contract was to provide a round-the-clock sanitising service to safeguard staff and patients at a Papakura medical centre.
Each hour he would begin a detailed procedure of wiping down surfaces with an anti-viral sanitiser, paying particular attention to 'high touch' areas, such as door handles, door push plates, toilet buttons, and soap dispensers.
Being highly visible in his CrestClean uniform and PPE gear meant Raj quickly became a familiar face at the busy medical facility.
"All the doctors and nurses would tell me that I was doing a great job and some would thank me for keeping them safe. It makes your heart feel good when you hear this," he says.
As well as the clinical staff, the centre's management also paid tribute to Raj's dedication to the job.
In a letter, Susan Clark, Administration Manager Counties Medical LP, said: "In recognition of CrestClean's work at the centre, I would like to express on behalf of Counties Medical LP many thanks for Raj who has done an amazing job keeping the environment clean and safe."
She also thanked Viky Narayan, the company's Auckland South Regional Manager, saying they were pleased with the sanitising and other cleaning services provided at another medical facility.
"We are hugely grateful with the work you continue to do for us at both sites."
Raj joined CrestClean in late March and admits the work took a little bit of getting used to. But the satisfaction and pride that came with the job was rewarding, he says.
"It was a bit tiring at times but I knew I was doing a worthwhile job to keep my community safe."
Vaughn Chiplin, one of CrestClean's Auckland-based Quality Assurance Coordinators, says Raj has done an outstanding job.
"He was proud as punch to be doing this work. Sanitising is a vitally important service, particularly for somewhere like a medical facility. It's an environment where they can't afford to have a positive test on any surface for any virus."
The sight of a cleaner going about their work should be reassuring, particularly at a time when COVID-19 was uppermost in people's minds, he says.
"Often cleaners are the people of the night. They come in to do their work when everyone has gone home. But during the current crisis more of our personnel are working in the daytime to provide extra cleaning.
"Now customers are perhaps meeting the cleaner for the first time and they are putting a friendly face to the service."